Astro Haven Enterprises (AHE) introduces new more capable domes including domes with servo-driven independent shutters.
"Dash1" and "Dash2" Domes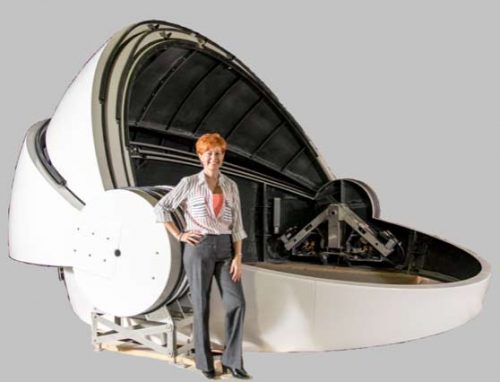 AHE has just introduced new models of the 12-foot and 16-foot class domes. The basic belt driven models are called the 12.5 Dash1 and the 16 Dash1. They incorporate the same advanced design and fabrication of our 18-ft model. Note that the 16 Dash1 is also a 5-shutter design. These belt driven models together with the AHE 18-ft model are also available with servo motors/drives that allow precise positioning of the shutters and a more elaborate remote interface. These models are the 12.5 Dash2, 16 Dash2, and 18 Dash2.
"X" Domes
These new 12.5 and 16-ft domes are now offered with independently actuated servo driven shutters and have the designation "X". The X-domes can be configured in a variety of ways and these configurations have a numerical designation. X1 is a dome with the base on one side replaced with a shutter (called a Plus1 shutter) and X2 is a dome with the base on both sides replaced by shutters (Plus1 and Plus2 shutters). Each shutter on an X dome operates independent of any other shutter using servo driven linear actuators. Each shutter is controlled by a pair of actuators slaved together by their respective servo drives. One of these servo drives incorporates the Programmable Logic Controller (PLC) that is the controller for the system.
X domes offer incredible flexibility for a variety of missions. This video shows a Plus1 shutter revealing the horizon and then all the shutters moving to one side. The shutters can put positioned anywhere for air flow control or parasol including straight up for transportation down the road. The base of the dome is delivered on an 8-foot skid with the drive units installed and the dome ready for immediate placement on the rotation ring. Like other AHE products you are up and running in a matter of hours.
The user interface on the Human Machine Interface (HMI) unit for the X domes has friendly human factors with SetUp screens a different color to avoid inadvertent ungeared movement. There are many variations of X domes possible like the hybrid X1 dome with servo driven belt shutters on one side (ala Dash2). In this case belt driven side had a page that had tracking features on the shutters like the rotation on the XR domes. There is a MODBUS over TCPIP user interface that replicates the HMI on a remote PC as well as a MODBUS driver that allows external commands, like altitude from the tracking mount, to be communicated to the PLC in the dome.