Government Defense
Mission Optimization for Range Operations, Orbital Surveillance, Directed Energy, and LaserComm
Range Operations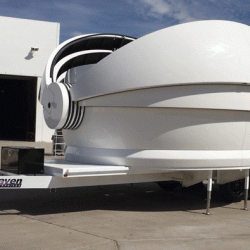 AHE offers systems solutions to weatherization of optical and RF equipment that can actually enhance mission performance. Designed for the high-speed mounts and ultralight sensors of the future, AHE enclosures protect against hurricane level winds and driving rain while morphing to act as parasols during daytime ops. Spherical in shape they can be opened or closed in seconds no matter wind or equipment orientation. Robotic out of the box, there is nothing to add for full capability on delivery. The growing demand for remote operation is met by enclosure designs that offer the same protection, capability and remote user interface for sensors that fixed on permanent structures or deployed on mobile trailer platforms. And AHE offers a mobile platform with air-ride suspension to float over the roughest terrain.
Orbital Surveillance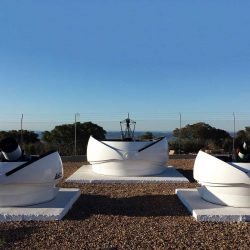 AHE enclosures are fast becoming the dome of choice for monitoring orbital objects at all ranges, even including the moon. The ability to open up all the way and close in seconds permits all-sky surveys and rapid pointing in any direction. The bullet-proof simplicity of the belt-driven models assures maximum availability and minimum life-cycle costs. Agencies and their contractors worldwide are one voice in their selection of
AHE products
for best mission performance.
Maritime and Directed Energy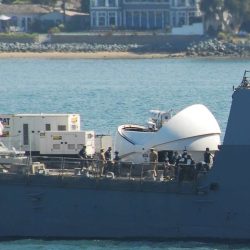 The AHE dome was used on the Dewey on the first successful demonstration of a sea-borne Directed Energy Weapon engagement of a drone. The spherical shape will allow engagement from all angles and azimuth while the composite construction and extensive use of stainless steel will stand up to the most hostile maritime environment. AHE enclosures have been successfully used in several maritime applications.
Videos
See All Videos